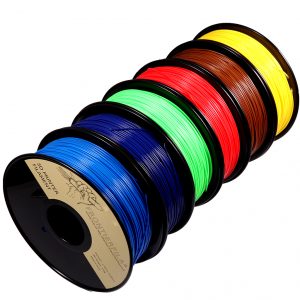 We offer 1.75mm 3D printing filament 1) in
4x250g sets of different colors/materials and 2) in individual reels.
All filaments are sold through amazon.co.uk (UK), amazon.es (Spain), e-ville.com/fi (Finland) and e-ville.com/sv (Sweden).
Currently the best information available about each individual filament is at the product descriptions found through above links.
We recently changed the name of the filaments from C12 Negative to FrontierFila. The old site is still at http://www.c12negative.com.
You can also check out a bonus space game company founder has been doing on his free time 🙂